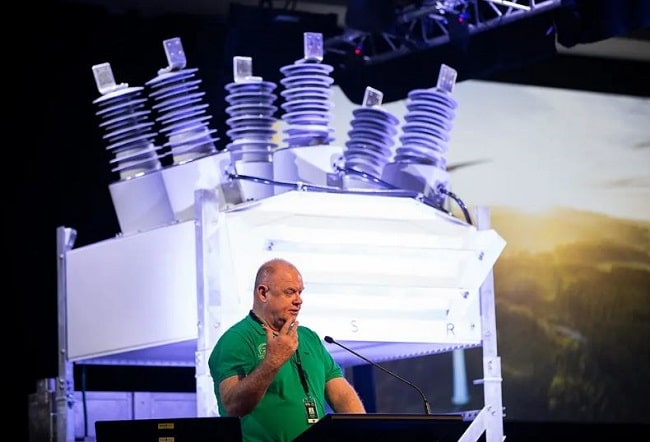 About the first solid dielectric circuit breaker from NOJA company:
Switchgear engineering firm NOJA Power company today announces the release of their world's first Solid Dielectric insulated Substation Circuit Breaker, branded the NOJA Power EcoBreaker.
Built on a scaled-up architecture from their install base of almost 100,000 outdoor medium voltage reclosers, the EcoBreaker offers utility engineers an alternative to polluting SF6 and bulk oil circuit breakers.
The NOJA Power EcoBreaker is rated up to 40.5 kV, with 2,500 Ampere continuous current and 31.5 kA interruption capacity.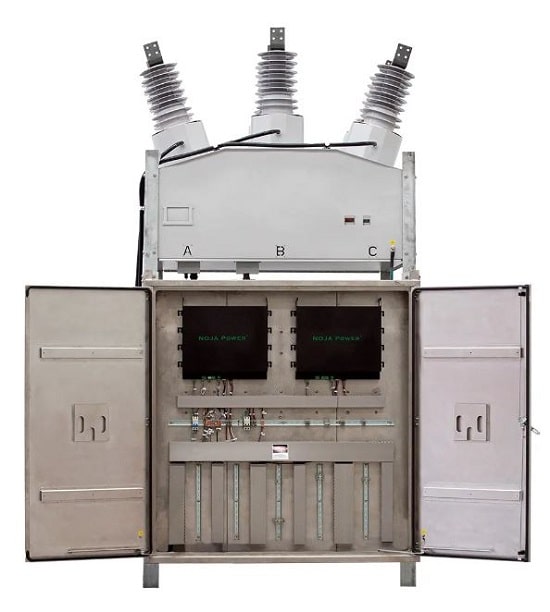 NOJA Power EcoBreaker with marshaling cabinet doors open. A full parallel redundancy option was selected, with two independent control systems.
With reliability as the top priority, the EcoBreaker contains two entirely independent electrical trip coils per phase. The breaker can be triggered from separate sources, offering full parallel redundancy for critical power applications.
The opinion of the CEO of Noja Company about the first solid dielectric circuit breaker:

"We are proud to release the world's first solid dielectric insulated vacuum interrupt substation circuit breaker," says NOJA Power Group Managing Director Neil O'Sullivan.
"As the world heads towards net carbon zero by 2050 the use of SF6 gas in substation circuit breakers will be eliminated and this is a safe field-proven architecture that will provide a reliable alternative."
The EcoBreaker order book is scheduled to open in Q4 of 2023, as the company finalizes industrialization of the product.
The key advantage of NOJA Power EcoBreaker:
SF6 Free and Maintenance Free:
Innovations in Solid Dielectric heat transfer coupled with ad-The SCB EcoBreaker™ have provision for six current transform-advanced heat sink designs allowing the SCB EcoBreaker™ to bring SF6-free technology to the substation. The device is rated to 2,500 A primary current, with an interrupting capacity of 31.5 kA and insulation of 40.5 kV.
ers per phase and generous marshaling cabinet provisioning for terminal blocks.
Full Parallel Redundancy:
With two trip coils and a close coil for every pole in the breaker, the SCB EcoBreaker™ provides unrivaled reliability. The reliability-first design requires only 2 of the 6 trip coils to operate to open all phases, providing
performance assurance in even the most arduous environments.
The SCB EcoBreaker™ is offered in Standard and Full Parallel Redundancy builds, with the latter including an additional fully separate electronic control system.
Safety First – Arc Fault Classification:
The SCB EcoBreaker™ is Arc Fault Classified, providing clear safety benefits over legacy Live-Tank switchgear design. The dual-earthed dead tank arrangement provides added safety for operators, and in the unlikely event of an internal arc fault, the energy is vented to the rear of the product away from operators.
Versatile Instrumentation:
The SCB EcoBreaker™ has provision for six current transformers per phase and generous marshaling cabinet provisioning for terminal blocks.