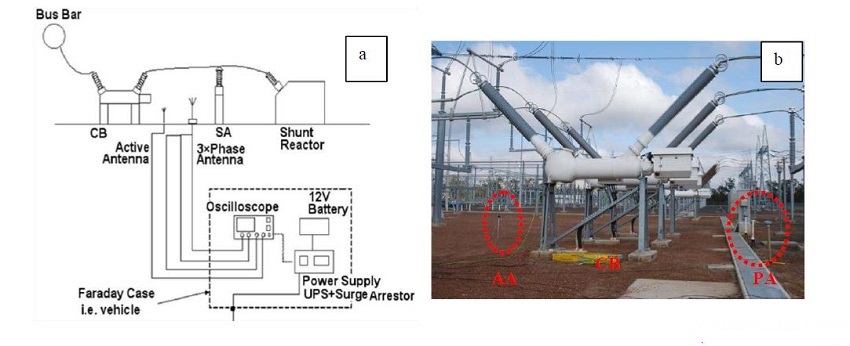 During a CB switching operation, TEE are generated by the electric discharges in each interrupter. The TEEs due to disruptive discharges in a CB such as prestrikes,
re-ignitions and restrikes have a high-amplitude and a broadband frequency range.
Three methods have been developed :
TEE detection with UHF antennas:
Uses four passive UHF antennas. Its principle is based on location by triangulation of the source of emission allowing the per interrupter analysis of livetank CBs and per pole analysis of deadtank CBs.
TEE detection with capacitive sensors:
More suited for dead-tank CBs. It uses an active high-frequency antenna (AA) placed in the vicinity of the CB and three broadband passive antennas (PA), acting as capacitive sensors of electric field, placed under each phase conductor.
TEE detection with PD couplers:
Method ➊ can be extended to dead-tank CB with 2 interrupters in series using the high sensitivity antennas i.e. PD couplers.
All these methods can be applied for both HV and MV CBs
Pic show measurement method ➋ setup with three PAs and one AA: (a) general test arrangement & (b)
positioning of AA and three PAs next to a 275 kV dead tank CB.