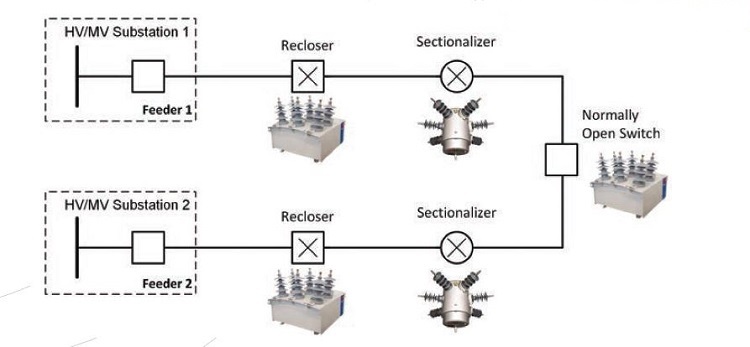 Control Unit:
Electrical control giving the necessary timing function for the operation of the sectionalizer.
Operations:
The sectionalizer always performs its isolating function in coordination with the operation of the recloser in a substation by these operation:
The recloser at the sub-station will always interrupt short-circuit or earth fault of the distribution line
As no voltage condition is impressed on the control unit of the sectionalizers, they will open automatically after a time delay of 2s in case of interruption of the circuit
The sectionalizer will close automatically one by one with a time interval of 10s from the substation side to the end of the distribution line.
After the sectionalizer closes, the eliminating time of the control unit starts. If a fault occurs, and the recloser opens during the eliminating time, the sectionalizer will open and will be locked out
The sectionalizer will lock-out only if no voltage occurs during the eliminating time
In fault of permanent nature, the recloser at the substation will interrupt again, when the sectionalizer that is faulty closes.
Figure show sectionalizer & recloser configuration in grid