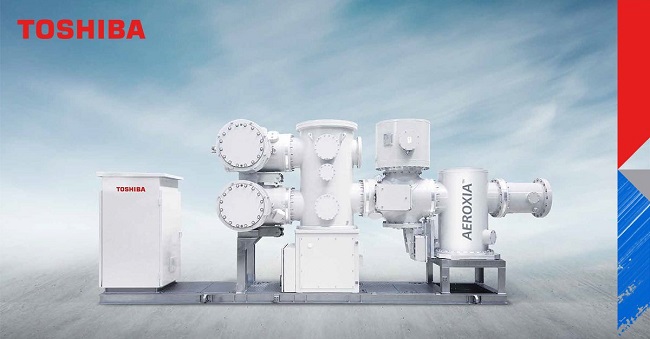 Toshiba company introduced SF6 free switchgear with the brand AEROXIA.
This 72.5Kv Gas Insulated Switchgear (GIS) uses natural gas and a vacuum circuit breaker for operation.
About 72.5 kV SF6 free Gas Insulated Switchgear brand AEROXIA:
 In view of the ongoing adoption of environmental regulations governing the use of SF6 gas for electric power equipment in Europe, North America, and other regions, we will expand our lineup of electric power equipment that uses natural origin gases, which are easy to handle and pose no environmental risk, under the "AEROXIATM*4" brand in Japan and overseas. These products also support the digitalization of substations and can be equipped with monitoring and diagnostic systems compliant with the IEC61850 standard.
The name of this brand comes from this source:

AEROXIA = "AERO" (Natural-origin gas) + "AXIA" (Value)
Hiroshi Kaneta, Director, Vice President of Toshiba ESS's Grid Solutions Division says:
 "We will continue working to help achieve carbon neutrality by actively developing this and other similar environmentally friendly products."
Toshiba will contribute to Net Zero Emissions by 2050 with the AEROXIATM SF6-free natural origin gas solution.
For the past 50 years, sophisticated SF6 technologies have greatly contributed to the reliability, economy, and robustness of power grids and have achieved compact equipment up to UHV-class applications over 1,000 kV. However, the next 50 years will require a gradual shift to Neo Ecology solutions to realize Net Zero Emissions Goals by 2050. Toshiba will contribute to this global challenge with the AEROXIATM SF6-free solution that is free of any fluorinated gases.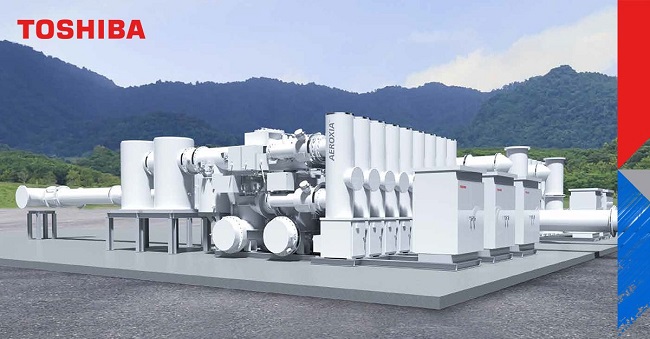 72.5 kV SF6 free Gas Insulated Switchgear brand AEROXIA
Toshiba to Win Order for Japan's First Environmentally Friendly GIS for a TSO Using Natural Origin Gases:
KAWASAKI, JAPAN—Toshiba Energy Systems & Solutions Corporation (hereinafter "Toshiba ESS") is pleased to announce that it has received a joint order from TEPCO Power Grid, Inc. (hereinafter, "TEPCO PG") for a gas-insulated switchgear (GIS) that uses natural origin gases.
This will be the first GIS for power transmission systems of a TSO(Transmission System Operator) in Japan*2 to use natural-origin gases, and installation is scheduled to be completed by the end of December 2022.
The order is for a 72kV GIS, a replacement for equipment at TEPCO PG's Fuchu Substation (Fuchu City, Tokyo). Rather than SF6, a greenhouse gas, this product uses as its insulating medium a mixture of nitrogen and oxygen (synthetic air), which are safe and have no global warming impact in the event of a leak. This product is the result of joint development*3 that Toshiba ESS has been pursuing with Meidensha Corporation (hereinafter, "Meidensha") since 2020. Having completed the prescribed type testing, sales of the product are now underway. Toshiba ESS is in charge of the development of the GIS as a whole, while Meidensha is responsible for the development of the vacuum circuit breaker (VCB), the main component of the GIS. As such, the VCB for this order will also be provided by Meidensha, and the GIS will be manufactured at Toshiba ESS's Hamakawasaki Operations.
Toshiba Group has been working on GISs since the 1960s and has a great deal of expertise in the overall development of GIS products, including contributing to the start of commercial operation of Japan's first 72kV GIS in 1969. Meanwhile, for more than 15 years, we have been conducting research and development of equipment that uses natural-origin gases as a measure to reduce environmental impact.
Background to Product Development For 72.5 kV SF6 free Gas Insulated Switchgear:
 A GIS is a device consisting of a circuit breaker that interrupts fault current on a transmission line to prevent it from affecting other power equipment, a breaker to switch the transmission system, a lightning arrester, and an instrument transformer.
SF6 is chemically stable and has excellent insulation and high current breaking properties, and has been used in many high-voltage substations, including GISs, all over the world for more than 50 years. However, because SF6 gas has a global warming potential (GWP) 25,200 times higher than that of CO2, in recent years, many countries have been developing equipment that does not make use of SF6.
Furthermore, this April, the European Union (EU) released a draft revision of its fluorinated greenhouse gas regulations, in which it was proposed that once natural origin gas devices achieve practical application, placed on the market (POM) using SF6 and other fluorinated gases with high GWP will be prohibited. With plans having been proposed to gradually impose restrictions from 2028 onwards, depending on rated voltages, demand for equipment using natural-origin gases is expected to further increase.
Accordingly, Toshiba ESS will continue to actively promote the development of high-voltage, high-capacity GISs that use natural-origin gases.