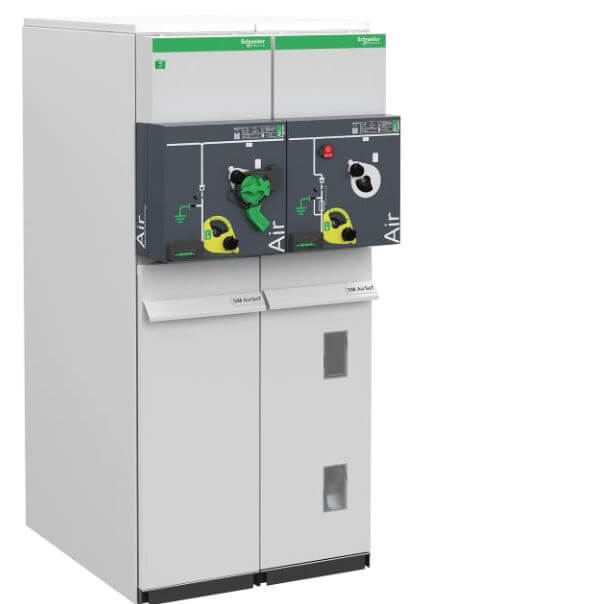 Photo from Schneider Electric company website/ news section (SM AirSeT MV switchgear model)
Schneider Electric company, has won the Industrial Energy Efficiency Award category "Energy Economy" for its new SM AirSeT switchgear, a green and digital medium voltage technology. The company's innovation makes it possible to end reliance on the now-standard SF6 greenhouse gas commonly contained in electrical equipment used to power the grid and industrial electrical installations.
SM AirSeT is a leap forward for sustainability, using pure air and vacuum interruption instead of SF6 gas and allowing users to take full advantage of digital features to unlock the value of data. The new offer is an environmentally superior continuation of one of Schneider Electric's most popular classic product ranges for secondary electrical distribution.
Since the announcement of the company's innovative Shunt Vacuum Interruption (SVI)™ technology associated with pure air insulation during the CIRED and European Utility Week events in 2019, the company continues to report successful pilot projects of the SF6-free medium voltage range at both utility and private
customer sites. This new green and digital switchgear is designed for secondary electrical distribution markets and will initially launch in several geographies in Asia and in Europe.
The company anticipates a similarly high level of excitement as seen during the pilot stage, because the combination of SVI and pure air insulation enables the avoidance of SF6 while maintaining the advantages of the compact physical footprint. It offers a comprehensive suite of functionalities, including the SF6free switch-fuse,
which is often the preferred solution for building installations.
It also retains the trusted operating mode of traditional SF6-based equipment.
Frederic Godemel Executive Vice President of Power Systems at Schneider Electric" we believe the best gas is air,"  "I am very pleased to announce SM AirSeT, our green and digital SF6-free switchgear. This is the most exciting leap forward for medium voltage in many years, and will play an important role in decarbonizing electricity and strongly contributes to circular economy.
We care about environmental responsibility, and so do our customers. Today, we make the transition away from greenhouses gas easy, while retaining all the benefits that classic SF6 equipment has historically given us."
SM AirSeT was also nominated for another industrial prize awarded this year by Deutsche Messe, the HERMES Award, where it placed among the three finalists. These recognitions come on the heels of a previous prize: In May, Schneider Electric's SM AirSeT technology was recognized by iF, the celebrated design institution, with an IF Design Award.
Source: Schneider Electric company website/ news section