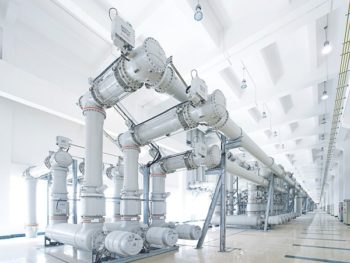 Photo (for illustrative purposes): GIS / ABB / ABB Press 
ABB company managed to provide 6 bays of 500 kV GIS for the Toshka2 substation in Egypt country.
El Sewedy Electric T&D contracted ABB to deliver high voltage gas insulated switchgear  and shunt reactors to ensure reliable power supply as part of the strategic expansion of the Toshka 2 substation.
This expansion, in the second phase of the 300-megawatt (MW) electric interconnection project between Egypt and Sudan, is an important step to transform Egypt into a regional hub for electricity exchange with African and European countries.
The Toshka 2 substation will feature six bays of 500 kV GIS from ABB Power Grids, making it the first such installation that will be commissioned in Egypt.
Mr Mohamed Hosseiny, Country Managing Director, Egypt & North Africa, ABB Power Grids said:
"ABB Power Grids is working with El Sewedy Electric T&D for many years and, once again, we proved our expertise in designing a complex technological solution in a very short time,"
Mr Medhat Maher, CEO at El Sewedy Electric T&D said:
"We are committed to working with global leaders who enable us to deliver premium quality and reliable energy to the Egyptian grid. ABB Power Grids responded quickly and demonstrated exceptional expertise during the engineering process and fully met our expectations for collaboration with an international technology leader,"
ABB Power Grids will also supply 500 kV shunt reactors, an essential component in bringing reliable electricity to the population and ensuring that voltage levels are within safe limits to avoid possible blackouts.
Source: power transformers news website