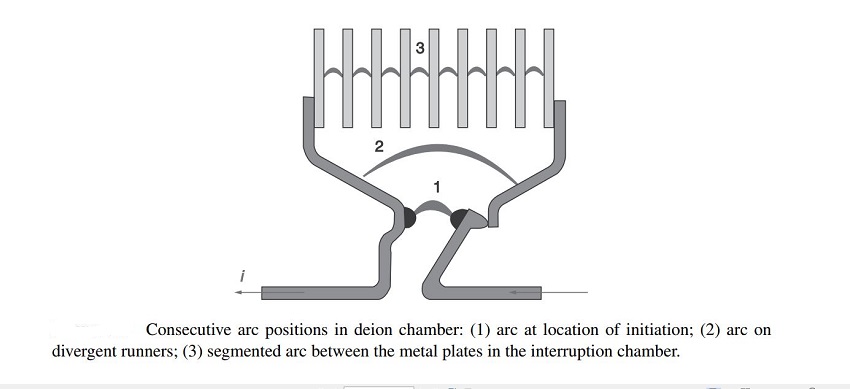 Photo source from Switching in Electrical Transmission and Distribution Systems book (figure 6.6 page 170)
The primary functions of the arc chutes are:
arc motion, elongation, and cooling by convection.
squeezing the arc between insulating sidewalls.
cooling the arc by gassing wall materials.
splitting up the arc into a number of shorter arcs in series by metal plates(arc segmentation).
increasing the arc length by using isolating plates as barriers.
At least 2 of the above functions are used.
There are 2 basic types of arc chutes; each type is characterized primarily by the material of the arc plates:
arc chutes with metal plates.
arc chutes with insulating plates.
The arc chutes with metal plates provide segmentation of the arc in a number of shorter arcs that burn between a  set of parallel plates. Metal plates are generally made of steel because of their ferromagnetic property that helps to attract the arc and keep it inside the stack. In this type of arc chute, the arc is initially guided inside the plates by means of diverging arc runners, which are simply a pair of specially designed arc horns. Subsequently, the arc moves deeper into the chute due to the electromagnetic forces produced by the current loop.
A schematic of this type of arc chute(Deion chamber) is shown in Figure.