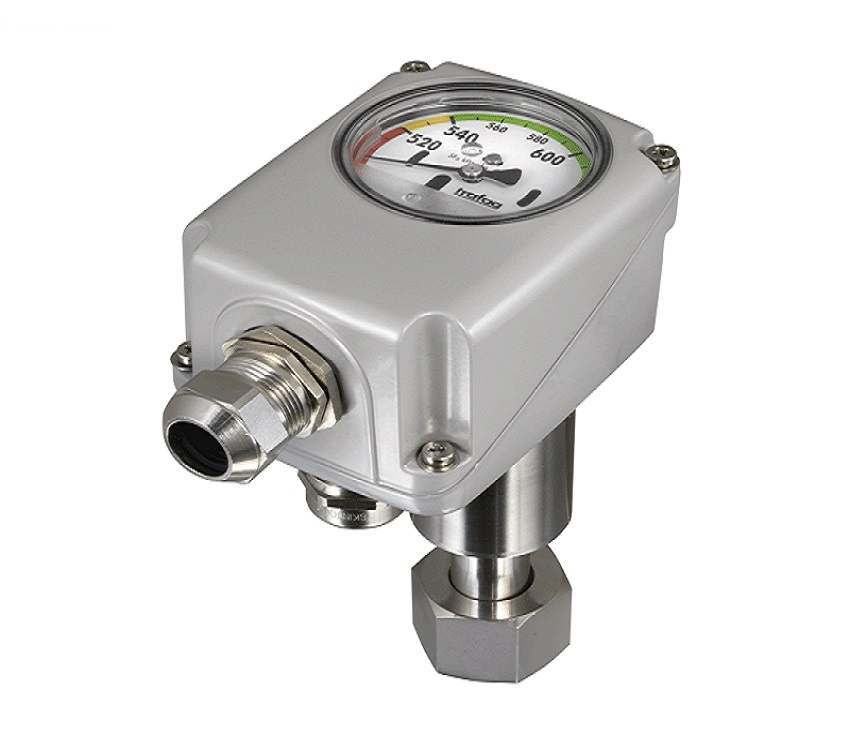 Photo from trafag company Catalog
Gas density monitor
Gas pipes with manifold, if any
Pressure (or density) gauge
Each of these three components will have different types of failure modes.
Gas density monitors are susceptible to the following types of failure modes:
The density values where the switch operates can change due to disturbed mechanical settings. Vibration can cause a change in settings.
The contacts may become corroded due to inadequate environmental protection. This could be due to poor design or the enclosures may not have been installed correctly.
The selection of the density monitor is very important for low temperature applications and liquefaction in the reference gas volume can cause incorrect signals. Temperature compensation for the entire working range of the equipment may not have sufficient accuracy if a general purpose solution is adopted.
Poor brazing of bourdon tubes can lead to leakage of SF6 gas. Environmental effects can also cause such joints to corrode and lead to leaking joints.
Gas pipes and manifolds introduce many joints in the system. These joints are often made at the site and are not as good as factory-made joints. They are also exposed to the external environment, which can cause Deterioration due to corrosion or thermal cyclic loads and eventual leakage.
Pressure gauges are generally installed in the system to confirm the presence of the SF6 gas and to monitor the gas pressure. The gauges are generally mounted outdoors, face an aggressive environment, and are connected through pipes and manifolds which are susceptible to leakage. The calibration of the gauges can become disturbed and cause the gauge to indicate an incorrect pressure after some period of operation. It may be desirable to have an indicator to monitor the pressure which is constructed in a manner to reduce the
number of joints. Such indicators are available as a part of the density monitor which will reduce the possibility of leakage.