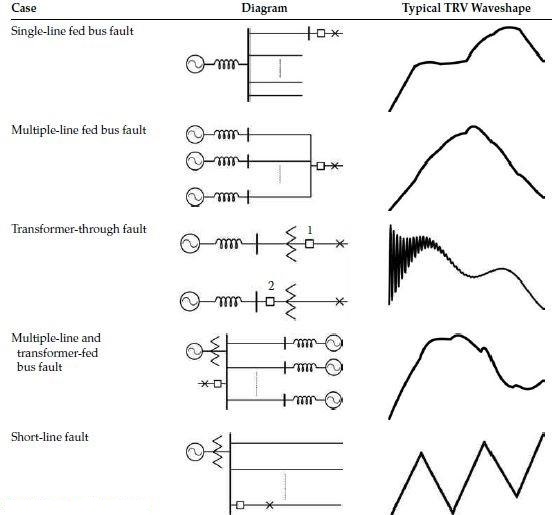 TRV waveshapes caused by fault current interruption are usually classified into three types: exponential,oscillatory, and sawtoothed
Also major TRV classified in two below condition:
Short circuit current interruption: The simplest case is the interruption of a symmetrical rated frequency short-circuit current since the current reduces naturally to zero once every half cycled.This represents the minimum natural rate of current decay (di/dt) so that for conventional power systems, which are inherently inductive, the induced voltage
following current interruption is minimized.
Short-line fault current interruption: A fault on a transmission line close to the terminals of a high voltage circuit breaker is known as a short-line fault. The clearing of a short-line fault puts a high thermal stress on the arc channel in the first few microseconds after current interruption due to the electromagnetic waves' reflection from the short circuit back to the terminals of the circuit breaker which can result in a TRV with a rate of rise from 5 to 10 kV/μs.