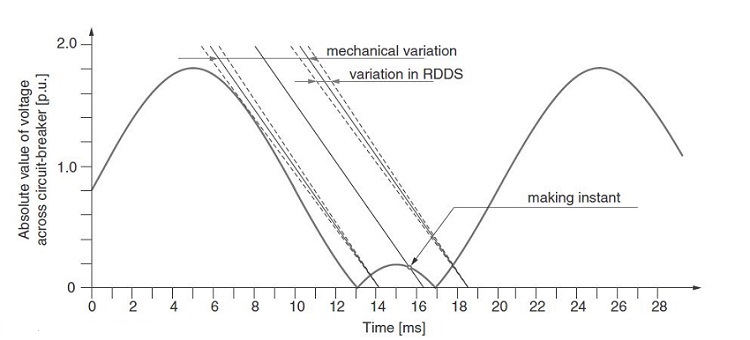 The physical phenomenon governing overhead line switching overvoltages is the propagation of travelling waves along the line. The wave propagation is initiated by the circuit breaker making operation. The voltage level is directly related to the momentary voltage at the moment of pre-strike.The optimum making instant for controlled switching of unloaded lines is at a voltage minimum across the circuit breaker.
The intent of controlled switching is then to close the circuit-breaker when the difference between the power frequency voltage of the source and the line voltage is at a minimum. and its different in compensated or uncompensated lines.
It's clear that this mitigation measure requires a dynamic controller that can analyse the differential voltage across the circuit breaker, locate the minimums, predict the expected minimums, and close the circuit-breaker accordingly when the close signal is applied all within 0.5 s or less .
Figure also show the modification of the voltage across the circuit breaker resulting from the presence of a 0.8 p.u trapped charge and the optimum strategy for energization in that case.