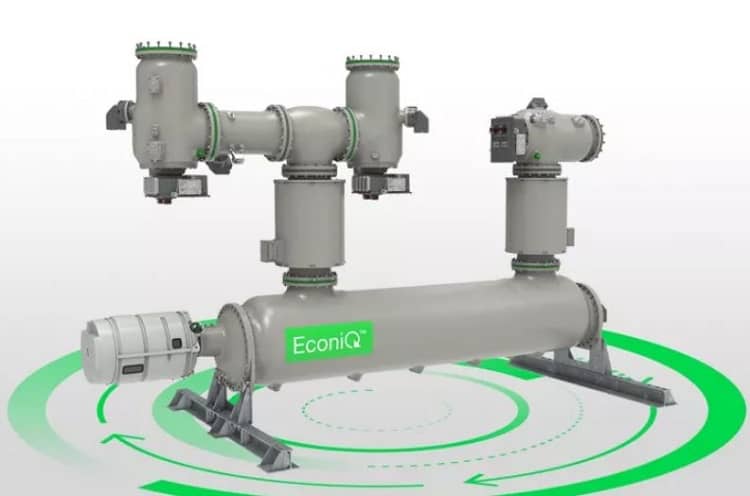 Hitachi Energy company unveiled the world's first eco-efficient 420-kilovolt (kV) circuit-breaker in conjunction with CIGRE Session 2022. This breakthrough technology marks a significant milestone in its accelerated EconiQ™ high-voltage portfolio roadmap that was announced at CIGRE Session 2021.
The history of research and production of SF6 Free circuit breakers in Hitachi Energy Company :
For over two decades, the company has been investing in eco-efficient alternative solutions to sulfur hexafluoride (SF6) including the world's first 170 kV eco-efficient gas-insulated switchgear (GIS). The EconiQ high-voltage portfolio uses a game-changing technology that eliminates sulfur hexafluoride (SF6), a greenhouse gas. Over time, it has been successful in continuously increasing the voltage levels of its EconiQ high-voltage portfolio.
Today, the EconiQ 420 kV circuit-breaker marks a key milestone in the industry to transmit large amounts of electricity over long distances while eliminating significant volumes of SF6.
This innovation is the key enabler to achieving a wide range of EconiQ switchgear applications and will be used in both dead tank breakers (DTB) and gas-insulated switchgear (GIS). The EconiQ DTB and GIS are expected to be released at the end of 2022, on track with the company's roadmap.
Hitachi Energy plans to install the world's first EconiQ™ 420 kV circuit-breaker by mid-2023, as part of an SF6-free 420 kV dead tank breaker, also a world first. This installation will be for Eversource in New England, USA, at one of its 345 kV substations. Hitachi Energy says the EconiQ™ 420 kV DTB will be just as reliable as SF6-based DTB technology.
Hitachi Energy is using/will use fluoronitrile-based gas mixtures for gas-insulated switchgear, dead tank breakers, hybrid switchgear, and current transformers for both indoor and outdoor applications, down to -30°C. For some other applications, such as SF6-free live tank breakers, Hitachi Energy considers a CO2/O2 mixture "the optimum choice.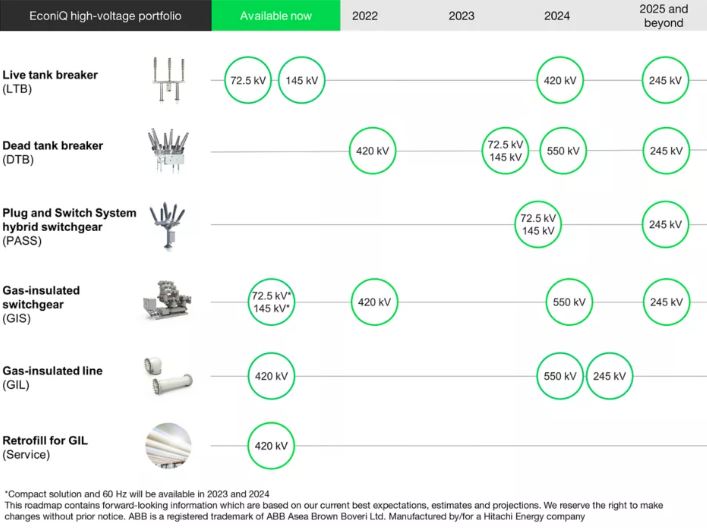 Hitachi Energy EconiQ High Voltage portfolio roadmap
The comments of Hitachi Energy company managers about the 400 kV SF6 Free circuit breaker:
"This 420 kV breakthrough is a demonstration of our technology that is reliable and scalable to reach ultra-high-voltage levels with the lowest carbon footprint," says Markus Heimbach, Managing Director, High Voltage Products within Hitachi Energy. "We are enabling our customers and the industry as a whole to rapidly transition to eco-efficient solutions to advance a sustainable energy future for all," he added.
EconiQ is Hitachi Energy's eco-efficient portfolio for sustainability, where products, services, and solutions are proven to deliver exceptional environmental performance. Hitachi Energy has placed sustainability at the heart of its Purpose and is advancing a sustainable energy future for all. Its high-voltage portfolio also includes EconiQ Retrofill, another world's first in replacing SF6 in existing high voltage equipment, and EconiQ gas-insulated current transformers. The EconiQ high-voltage technologies are widely adopted by key customers in Europe.
1 world fully test SF6 free 420 kV circuit-breaker where all relevant tests described in the IEC and IEEE standards for 63 kA, 5000 A, 50, and 60 Hz have been successfully performed.
Activity and history of Hitachi Energy Company:
Hitachi Energy is a global technology leader that is advancing a sustainable energy future for all. We serve customers in the utility, industry, and infrastructure sectors with innovative solutions and services across the value chain. Together with customers and partners, we pioneer technologies and enable the digital transformation required to accelerate the energy transition towards a carbon-neutral future. We are advancing the world's energy system to become more sustainable, flexible, and secure whilst balancing social, environmental, and economic value. Hitachi Energy has a proven track record and unparalleled installed base in more than 140 countries. Headquartered in Switzerland, we employ around 38,000 people in 90 countries and generate business volumes of approximately $10 billion USD.