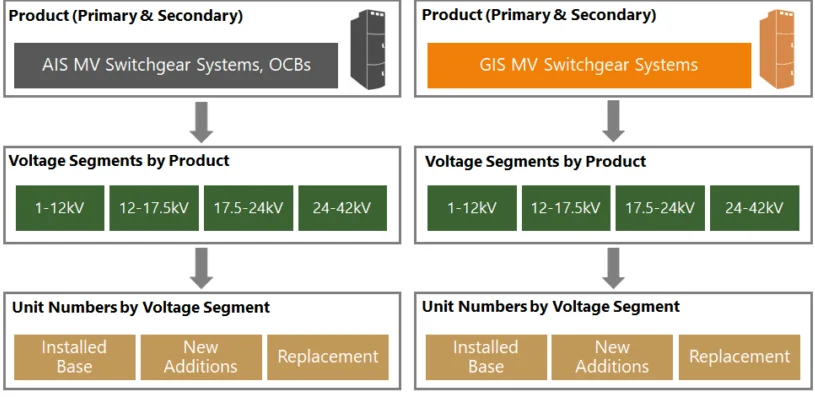 Photo source from Power technology research company website
About the Nordic countries MV switchgear power market:
The Nordic power market is the most interconnected power market in the world. It grew from being four national power markets to become one common power market with most of the generation relying on hydro, nuclear, and wind. Substantial growth is expected in renewable generation in the region, especially onshore wind, and this will, in turn, affect the medium voltage switchgear market.
More recently, the Baltic market, with Estonia, Latvia, and Lithuania, has integrated with the Nordic market to form the Nord Pool, but in this article, we will focus on the MV switchgear market trends of Denmark, Finland, Norway, and Iceland.
Power Technology Research analysis shows that the medium voltage switchgear market of Nordic countries is expected to grow at a CAGR of 6.3% from 2020-2025 across all verticals.

Demand for medium voltage switchgear from renewable generation (wind and solar) is expected to grow substantially, with a CAGR of 7.2% from 2020-2025.

Ambitious renewable targets will drive the growth of the medium voltage switchgear market in Nordic countries.
Transmission system major operators in Nordic countries:
The major TSOs in the region include Energinet, Fingrid, Statnett and Landsnet:
Energinet:
Energinet is an independent public enterprise which is owned by the Danish Ministry of Climate and Energy. It owns, operates, and develops the transmission systems for electricity and natural gas in Denmark. The country has two transmission systems, the western grid, which is synchronized with Continental Europe, and the eastern grid which is connected to the Nordic system. Eastern Denmark is connected to Sweden, via DC, while Western Denmark is connected to Germany via an AC link.
Fingrid:
Fingrid is Finland's transmission system operator and is owned by the state and Finnish pension insurance companies. It secures the energy supply in Finland by transmitting electricity through the high voltage network, connecting major electricity producers, industries with high energy demand, and the distribution network. Finland is also connected with the Central European Power System and has DC connections to Russia and Estonia.
Statnett:
Statnett is Norway's transmission system operator which owns and operates the transmission grid while maintaining a balance between consumption and production in the country. Statnett is a state-owned enterprise owned by Norway through the Ministry of Petroleum and Energy. Norway has DC connections to the Netherlands and recently, to Germany.
Landsnet:
Landsnet is Iceland's Transmission System Operator (TSO) which is largely owned (65%) by the state-owned power company, Landsvirkjun. Landsnet not only operates the national grid and administers system operation but owns all bulk electricity transmission lines as well as all substations in Iceland. It is regulated by the National Energy Authority (NEA) of Iceland.
Unlike the transmission companies, DSOs are largely fragmented. Norway has the highest number of DSOs accounting for 138, Denmark has 50, Finland has 80 and Iceland has 6 DSOs.
Renewable generation in the Nordic countries:
Nordic countries, with the exception of Denmark, have largely relied on renewable hydropower to meet their electricity needs but in recent years substantial growth has been observed in onshore wind energy generation; growing from 3,365 MW in 2009 to 10,912 MW in 2020.
Denmark, where hydropower generation is absent, relies largely on onshore wind followed by offshore wind and solar PV. Cumulative onshore wind installed capacity reached 4,534 MW whereas offshore wind installed capacity reached 1701 in 2020. Denmark also imports power to meet its electricity demand.
Finland depicts a similar generation pattern, with reliance on hydropower. The growth in onshore wind energy was 123 MW in 2009 to 2401 MW in 2020.
In Norway, more than 90% of its electricity comes from hydropower however onshore wind energy has been growing from 2009 onwards and now has an installed base of 3,975 MW.
Almost all the electricity generated in Iceland comes from renewable sources including hydro and geothermal. The cumulative installed capacity of hydro stood at 2104 MW in 2020 followed by a 756 MW capacity of geothermal.
The cumulative renewable capacity for Denmark, Finland, Norway, and Iceland is shown in Figure 1.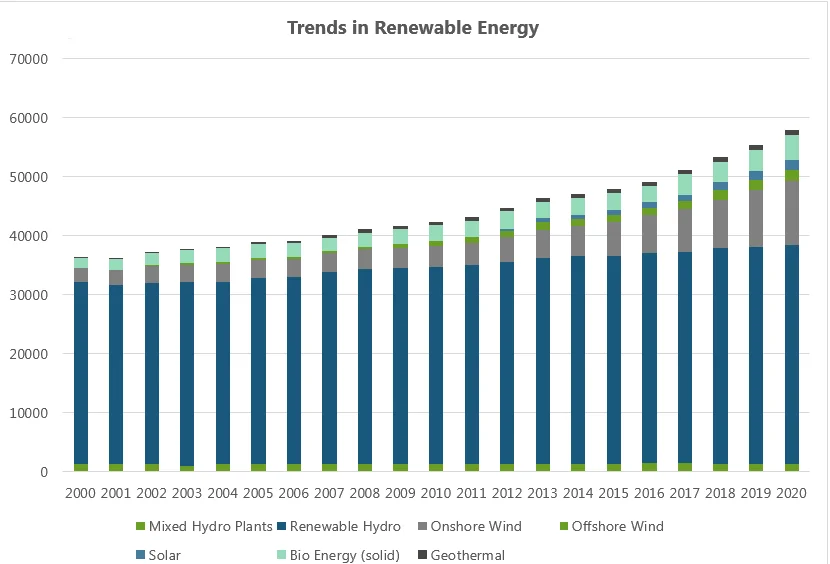 Figure 1: Cumulative renewable installed capacity in the Nordic countries (photo source IRENA website)
When discussing generation in the region, it is important to shed light on the consumption trends in Nordic countries where heating plays a vital role in the energy market mainly due to cold climate. Work is being done in this regard to improve the efficiency of heat production whereas heating systems are being designed keeping in mind regional requirements and corresponding resources. For instance, Norway utilizes its hydro resources to meet their heating needs, Denmark uses gas while Finland banks on biomass from forests.
Nordics countries MV switchgear market growth rate:
The Nordic market generally leans towards Gas Insulated Switchgear (GIS) mainly because of the penetration of renewables, which require compact switchgear. Secondly, renewable energy, especially onshore wind, is expected to continue to grow because of the ambitious carbon emission goals set by these countries and by the EU.
Power Technology Research expects the MV switchgear market of Nordic countries (Denmark, Finland, Norway, and Iceland) to grow at a CAGR of 6.3% from 2020-2025 for all verticals.
MV switchgear demand will grow:
For renewable generation (wind and solar) with a CAGR of 7.2%
For utility distribution with a CAGR of 5%
For an industry with a CAGR of 12% respectively.
Although the MV switchgear market observed a significant decline of 6% year over year it is important to note that Denmark's market was hit the hardest by Covid-19 as compared to the rest of the markets including Finland, Norway and Iceland showed a slight decline.
The 2020 MV switchgear market for the Nordic countries in this article is shown in Figure 2. Norway had the largest market share accounting for USD 23 million followed by Denmark at USD 21 million, Finland USD 17 million, and Iceland USD 4.2 million.
In figure 2 shown MV Switchgear Market Share of Nordic Countries in US Dollars in 2020.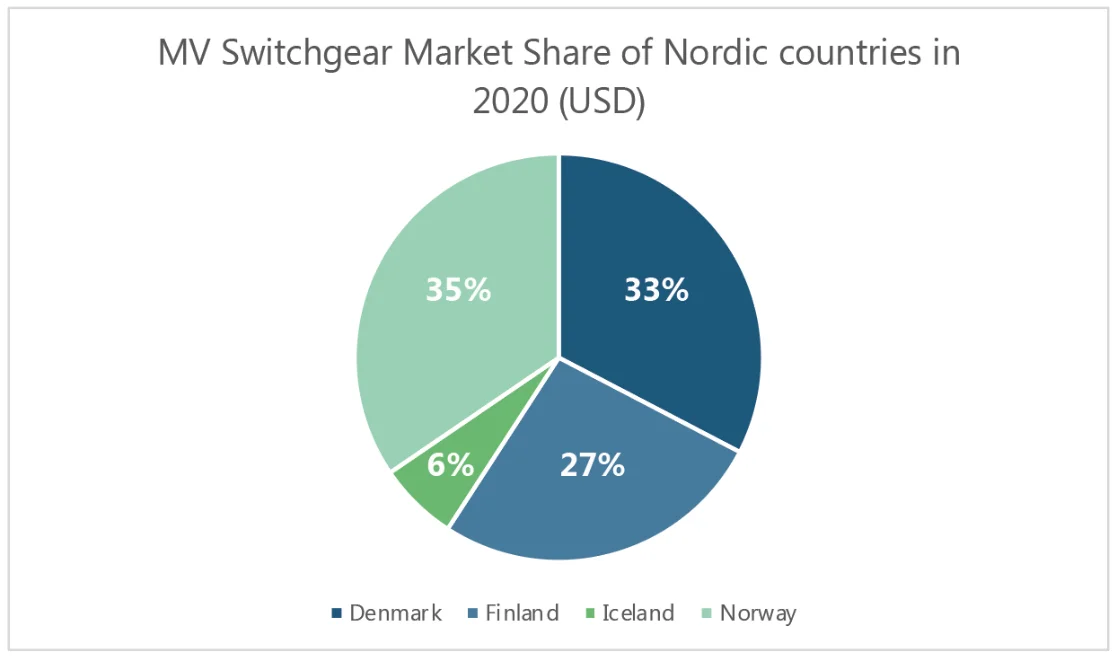 Figure 2: MV Switchgear Market Share of Nordic Countries in US Dollars in 2020.
Looking ahead for MV switchgear market and carbon emission reduction:
Ambitious carbon emission reduction goals are expected to become a driving factor behind growth in the switchgear market of Nordic countries (see Figure 3). Norway has set to reduce carbon emissions by 50-55% by 2030 compared to 1990 levels. Finland has set a target to achieve carbon neutrality by 2035 while Denmark is aiming to achieve a 40% reduction in emissions in GHG by 2030.  Iceland aims to achieve carbon neutrality before 2040 and to reduce greenhouse gas emissions by 40% by 2030 under Paris Agreement.
Figure 3: Ambitious carbon goals of Nordic countries (source no.3)
In line with these environmental goals, it is natural that the Nordic market, which is already inclined towards clean energy, favours SF6 free switchgear. Further, the Nordic market will provide an interesting opportunity for OEM manufacturers of SF6 free switchgear.
Ranking in the MV switchgear market share between famous brands in the Nordic countries:
This research has been done between famous and well-known brands in medium voltage switchgear in the nordic countries market.
The brands under research are companies:  ABB,  Siemens, Schneider Electric, Eaton
The research was conducted in two categories:
AIS MV Switchgear
GIS MV Switchgear
The results of the research are as follows:
For AIS MV Switchgear:
Position 1 – ABB
Position 2 – Siemens
Position 3 – Schneider Electric
Position 4 – Eaton
For GIS MV Switchgear:
Position 1 – Siemens
Position 2 – ABB
Position 3 – Schneider Electric
Position 4 – Eaton
A large part of this article is adapted from the content sent by Mr. Hassan Zaheer from the Power Technology Research company. Thanks to him for posting this content and help.
Writer of source: MS. Aleezeh Shahid  (market analyst at Power Technology Research company).