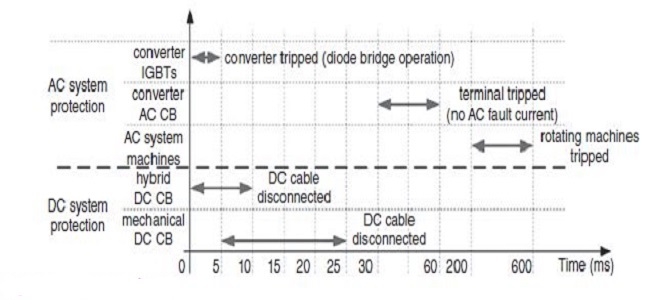 Photo from DC Grid Fault Management and DC Circuit Breakers chapter 26 of High‐Voltage Direct‐Current Transmission: Converters, Systems and DC Grids book by Jovcic, Dragan, Ahmed, Khaled
Direct-current fault current has no zero crossings. This creates problems because all mechanical
DC circuitbreaker exploit natural zero crossing to interrupt the current arc.
Direct-current line impedances are significantly lower. This implies much larger fault current magnitudes and a low voltage level across the entire grid for a DC fault.
Locating a fault in DC grids is more difficult because of low impedances.
The semiconductor-based components in a DC grid – voltage-source converters (VSCs), DC/DC converters, DC CBs have very small thermal constants and a very small overcurrent rating.
Considering, too, that costs of semiconductor components are high, there is a strong requirement
to clear DC faults in a short time and therefore the fast speed of protection system operation is very important.
Voltage-source converters are blocked if DC voltage drops to around 80–90% of nominal value.
Many DC systems involve cables that have significant amount of shunt capacitive impedance and further capacitance is present with converter DC-side capacitors and DC-filters.
The overview of protection operating timeframes for AC and DC sides is illustrated in Figure.