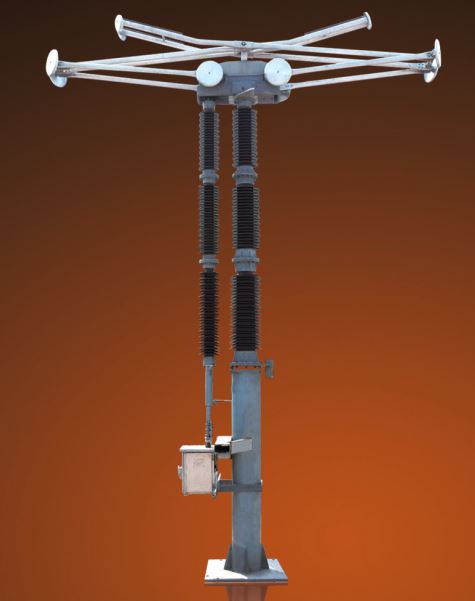 In installations for higher voltages (≥ 72.5 kV) and multiple busbars, the pantograph disconnectors requires less space than other disconnector design.
The base of the disconnector is the frame, which holds the post insulator carrying the head piece with the pantograph and the gearbox. The actuating force is transferred through the rotating insulator to the gearbox. The suspended contact is mounted on the busbar situated above the disconnector. On closing, it is gripped between the pantograph arms. During the closing movement, the pantograph arms swivel through a wide range and are therefore capable of carrying the fixed contact even under extreme position changes caused by weather conditions. The feeder line is connected to the high voltage terminal of the gearbox. In general, the single-column disconnector
allows higher mechanical terminal loads than the two-column rotary disconnectors.
The frame with the rotary bearing for the rotating insulator is fastened to the support with four stay bolts. They allow the disconnector to be accurately adjusted relative to the suspended contact.