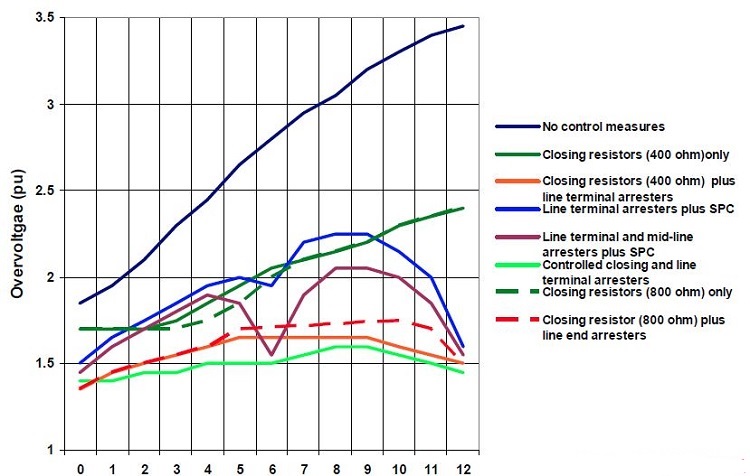 Fast insertion of shunt reactors:
Purpose of shunt reactors is to provide compensation of transmission line capacitance and have secondary value, if connected, of providing some reduction in switching overvoltage levels. No utility would consider adding shunt reactors specifically for the latter purpose
Closing resistors:
Generally, the aim with closing resistors is to limit the voltage at the receiving end of the line to 2 p.u.
Staggered pole closing:
The principle is quite simply closing the individual poles one-half cycle apart in the expectation that transients in the closed phase will have greatly attenuated before the next poles close
Line terminal arresters:
With arresters at the line ends only, the overvoltages at those points only will be limited to the protective level.
of the arresters.
Controlled closing:
This mitigation measure requires a dynamic controller which can analyze the differential voltage across the circuit breaker, locate the minimums, predict the future minimums and close the breaker accordingly when the close signal is applied,all within less than 0.5s.
Figure shown overvoltage profile in EHV long line by various overvoltage limitation options.