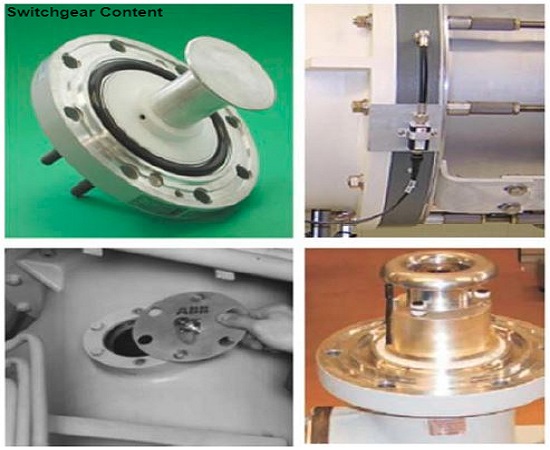 In most types of GIS, the UHF energy is concentrated between 100 MHz and 2 GHz. The sensor's frequency response depends on its size, shape and the connection method used. Most sensors are themselves resonant structures at UHF frequencies and this can be used to advantage. Typical sensors are shown in Figure.
Internal sensors are normally mounted at a recess in the enclosure. In this region, the radial component of electric field is predominant. Internal sensors must be fitted to the GIS during manufacturing or retrofitted during maintenance, because degassing of the GIS chambers is necessary. These sensors often take the form of a metal disc insulated from the GIS enclosure by a dielectric material. The measurement connection is made by a coaxial connector that is usually connected to the center of the disc.
Externally mounted sensors(e.g. at an inspection window or barrier insulator) will be affected by the field patterns in the structure on which they are mounted. In this case, the mounting arrangement should be considered as part of the sensor. External sensors are fitted to an aperture in the chamber wall, such as an inspection window or exposed barrier edge.